What Law Enforcement Chaplains Do

Law enforcement chaplains provide spiritual support and encouragement as needed to officers and their families, helping them deal with the pressures of life and their profession. In addition, chaplains provide spiritual support and comfort to members of their community who are in crisis. Chaplains often respond to death scenes, accidents, or any incident where an officer thinks a chaplain can bring comfort or assistance to someone dealing with a difficult or tragic situation. Chaplains frequently deliver death notifications alongside officers, assisting families by providing emotional support or spiritual guidance during what can be some of the worst moments of their lives.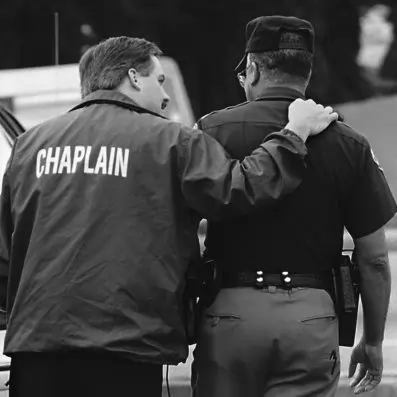 Taking Joy in Their Work
Chaplains are proud of the work they do. They are often so focused on their mission of service to officers that when their work is completed, they simply return to their regular ministries without telling the story of their work.

Ask a chaplain, though, and he/she will happily tell you about the work chaplains do with police officers, civilian members of police departments, members of other public agencies, and people in the community who face moments of crisis or tragedy.

Police officers often tell chaplains, "I wouldn't do the difficult work you do for anything!" Officers are trained and prepared to face armed robbers or control an unruly crowd, but sobbing parents grieving the death of their child can break even the most stoic officer's composure. Entering those sad moments is no easier for a chaplain, but chaplains bring experience, training, and skills to the tragedy that are as specialized as the law enforcement skills every officer develops with training and experience.

As a team, both officers and chaplains make an important difference in the lives of persons touched by tragedy. They work together.
Chaplains represent a wide variety of religious traditions and levels of professional preparation and endorsement. But when the chaplain is working in the police world, each is "chaplain" for everyone, not the religious leader of a particular tradition serving a particular congregation or service agency.
Chaplains serve many personal and spiritual needs of individuals where they are, when they need the support of another person who comes to them without judgment, with openness, and cares for them until the crisis moment is over.
Chaplains respect the persons they serve, even though there may be profound differences in race, gender, economic status, religious experience and many other factors.
Chaplains come at any hour, in all kinds of weather. Mostly, they listen. But they also comfort people who are shaking with fear with a gentle touch. Perhaps, if someone asks, a prayer will be offered in guarded privacy to support the trembling of spirit that comes in difficult moments.
Chaplains also understand the difficulties of public bureaucracies, assisting with the "red tape" moments of life for officers and the public alike. They spend many hours riding as active passengers with officers on patrol duty.