John A. Price (JAP) Award
Nominations are now being accepted click here for submission page.
Established in 1984, this award was named in honor of the late Chaplain John A. (Jack) Price, Albuquerque Police Department (NM). He consistently demonstrated excellence in his own chaplain ministry, encouraged others to excellence, and was willing, over and over, to give recognition when he saw excellence in the chaplaincy of others. Jack served as ICPC's President from 1977 to 1979.
A minimum of 2 awards (equal consideration given regardless of agency size) are presented at the Annual Training Seminar (ATS) to recognize and honor law enforcement chaplaincy work at the local level.
Eligibility: The nominee must be a FULL member of ICPC. When applicable, the Ethics Chair and Regional Director are contacted for their acknowledgement and endorsement of the nominees. Current ICPC Executive Officers are ineligible for this award during their term in office.
Nomination Deadline: October 31
st
Selection: Nominations are submitted to the Corporate Office with the final selection at the January Executive Committee mid-winter meeting. The President (or appointee) will contact the recipient, and their agency head, to announce the selection and encourage ATS attendance for presentation.
Description: A bronze sculpture with engraved plate: The John A. Price, Excellence in Chaplaincy Award, year, recipient's name.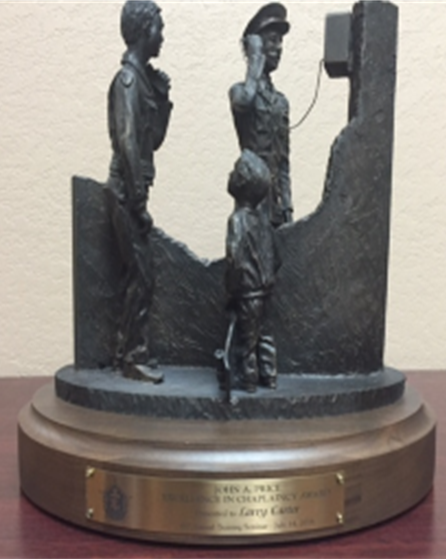 Nominations are now open.